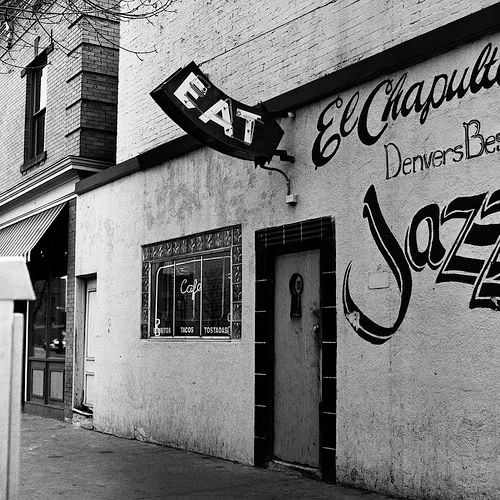 Looking for a change in Lodo Happy Hour scenery? Do yourself a favor and slip into El Chapultepec, an iconic Denver gem on north Market street. This cash only bar boasts strong drinks, colorful personalities, and no pretense.  The diverse crowd runs the gamut from suits to cowboy hats, elder patrons, to college drunks who stumbled over from surrounding big ticket bars.
The Pec is home to some the best live Blues and R&B this side of the Mississippi, having hosted multitudes of impressive acts throughout the decades. A former Jack Kerouac haunt, this bar presents a rare originality few other establishments in town can claim. The intimate setting and limited seating (booth style) create an easy melting pot for the crowd.
Looking for a Happy Hour? Every afternoon El Chapultepec has a $5 Deal that gives you Hot Dog, Chips, and an Ice Cold Brew.
(courtesy of Andrew Parrott)