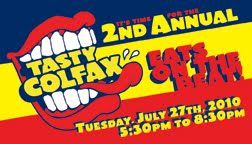 I've always thought that Colfax is a tasty thoroughfare.  One event has capitalized on this notion, and it happens tonight!
Come out and enjoy the flavors of this epic and historic byway at the Second Annual TastyColfax event, tonight from 5:30pm to 9:00pm.
Purchase a $25 ticket and go from restaurant to restaurant to sample a diverse selection of the most tantalizing East Colfax eateries.  Sample selections from hot dogs, fries and limeaid at Steve's Snappin' Dogs to Pad Thai and crab cheese wantons from Tommy's Thai.  Plus enjoy live music as you stroll Colfax. It's only 7 blocks, so don't worry about the car.
Tickets are available by clicking here, or by going to Hooked on Colfax.  You can use your Visa, MC or Discover to purchase today at the event.  Click here to find out where.
PARTICIPATING EATERIES:
Annie's Cafe
Hooked on Colfax
Atomic Cowboy
Fat Sully's
Tommy's Thai
Denver Biscuit Company
Encore Restaurant
Lovely Confections
The Shoppe
Goosetown Tavern
Steve's Snappin Dogs
3014
Stella's on Colfax
Bastiens
GOT KIDS?
Kids under 10 are Free at the event.  If you want to wander without them, Tiger Kim's Academy will be hosting a kids only party from 5:30 to 7pm for $12.  Kids party includes;  fun karate class, Tee Shirt, movie and the bouncy castle in the Academy at 1480 Steele Street Denver, CO 80206
(303) 388-1408